Anniversary Trip: Miramar Beach, FL
In January we celebrated our 3rd wedding anniversary in beautiful sunny Florida. We love to vacation in Miramar Beach, Florida. It is located just between Destin and the beautiful towns on 30A. Below is a map out of our 4 night get-a-way!
DAY 1
We both worked a full day and were not able to take off from Lafayette until 4:30pm. This was our actual anniversary so we decided to get a room at the Beau Rivage in Biloxi, MS for the night. Rooms are super cheap during the week and we splurged for a king panoramic view room for a whopping $109!! These rooms go for $300-$400 on the weekends.
We arrived at the Beau Rivage at 8:00pm. This was just enough time to check in, change, and head down to BR Prime, the hotel steakhouse, for our 8:30 reservation.
Pictured above: Veal Chop with the creamed spinach (left) and Grand Marnier Souffle (right)
We ordered SO much food at BR Prime! We were both very pleased with most of our selections. Things we would order again: the lobster bisque for a starter, filet medium rare and veal chop for main courses, and the creamed spinach for a side dish. Things we would skip: wedge salad and dessert (even though it was beautiful).
We were so stuffed that we skipped the casino and went up to our room and fell right asleep. We were woken up at 1:30 am by the fire alarm because someone lit the trash can on fire with a cigarette!! Luckily, it was contained quickly and we didn't have to go down 23 flights of stairs!
Day 2
We attempted to sleep in, but that didn't really happen. We made coffee in the room, watched some TV, and packed up for Florida.
Our first stop before we even went to the condo was our absolute favorite sushi restaurant, SushiMoto, in Miramar Beach. I feel like it is a hidden gem. It is located in a strip mall between a bathing suit shop and a gym. It is always full of locals and everyone knows everyone. We always order off of their "secret menu" and I really think it is my favorite sushi of all time.
Pictured above: Cookie Monster (middle picture). V roll & So fresh and so clean (third picture).
After our sushi date we stopped at the grocery store for a few groceries and wine :). We then arrived at the condo, fixed a to-go glass of wine and headed to the beach with a book. We stayed on the beach for an hour or two until we were freezing and headed back up.
We walked to one of our other favorite hidden gem/strip mall restaurants, Vint'j Wine Boutique for dinner. I love how you can go into the wine section, pick out a bottle of wine, and it is not crazy up-priced. Also, I would recommend making reservations ahead of time. They will be moving to Grand Boulevard this Summer.
Pictured above: Skillet Seared Veal Sweetbreads (left) and (Vin'tij) Cioppino (right)
My favorite appetizer is the Skillet Seared Veal Sweetbreads. Do not let the name scare you! They are served with portobellos, capers, plum tomatoes, a balsamic reduction & lemon butter. I ordered the Cioppino, a.k.a. fish stew, and it was so refreshing. I would 100% order this again- I actually had during my last visit in September too. Petey had the Ribeye (medium rare) and was very pleased. We skipped desert and headed home for the night.
Day 3
We slept a little later than normal and decided to make breakfast at the condo. Pictured below is our Mammoth French toast :)
I decided that we had to do something active so we decided to take our bikes down the scenic gulf highway, HWY 98. We biked until it dead ends at Henderson Beach, turned around stopped for burgers & a beer at Kenny D's, and then biked back to the condo. This was a total of 11 miles that was very much needed haha.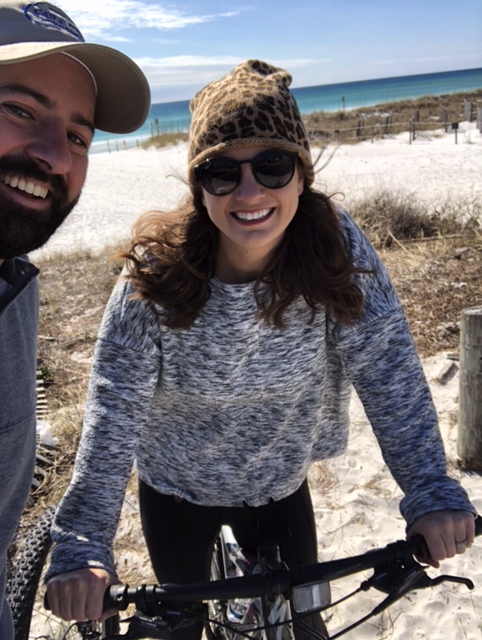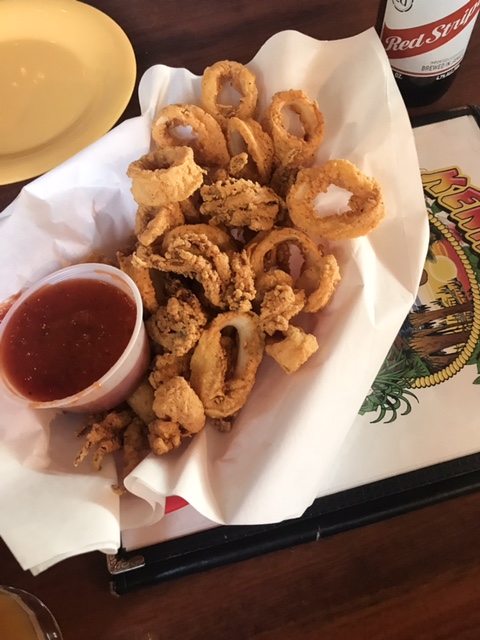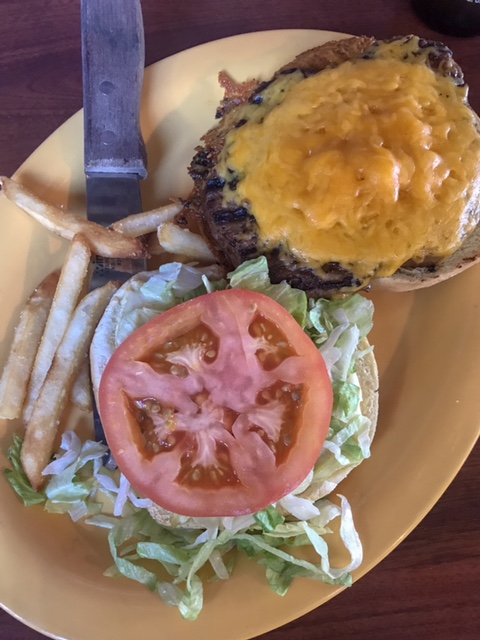 After our bike ride, I made a quick trip to the outlet mall while Petey watched golf and napped. Prior to going to Florida I did a quick google search for things to do in South Walton. I found out that the South Walton Beaches Wine & Food Festival Taste of Champions event was being held on Friday night and bought tickets.
This is a preview to the actual wine festival held at the end of April. Tickets for this event were $50 and you were able to taste over 600 different wines from all over. They also had light hor d'oeuvres, a meat and cheese station, and a dessert table. There was also live music and different raffle opportunities. It was a fun date night and probably would have been even better with a group of friends.
Day 4
We woke up to beautiful sunny, but still pretty chilly weather. We got dressed and headed down to the 30A area for the day.
Our first stop was the adorable town of Sea Side, FL. You may recognize this city from the movie The Truman Show. A farmer's market was going on in town square so we walked through it and then headed to the upstairs of Bud & Alley's for breakfast.
Pictured above is what I ordered. The Beef Short Rib Hash Browns were SO good and SO filling. I added a poached egg to mine and this dish is plenty big enough to share.
From Bud & Alley's I had big plans to bike to Rosemary Beach and have lunch- a total of 16 miles round trip. Well this didn't exactly go as planned. Our booties were crazy sore from riding the 11 miles the day before. (We haven't used our bikes in almost a year). We biked 5 miles down to The Hub at 30A (which was closed, bummer!) and then back to Sea Side.
We loaded up our bikes and ended up driving down to Rosemary Beach. We walked around and then headed back to Miramar. We stopped for lunch at the Cowgirl Kitchen in Seagrove.
Pulled Pork Nachos from Cowgirl Kitchen in Seagrove, Fl
After Cowgirl Kitchen we made our way back to the condo and got dressed for Mass at Resurrection Catholic Church in Miramar Beach. This is one of my favorite Catholic Churches. The priest has a yellow lab, Bridgette, who is always at mass with him and even carries the missalette at the end of mass.
Our Saturday night plans were to pick up more wine and an order a pizza from Jordano's. Well when I googled the number I was informed that they were permanently closed. I may or may not have started tearing up in Winn Dixie! This is my favorite pizza of all time- how could they close forever?!! Well I have done a little research and it looks like they are just moving locations and are closed until Spring 2018.
We decided to try out Fat Clemenzas. It is an Italian restaurant and guess what?! It too is located in a strip mall haha!
Petey ordered the Seafood Linguine with shrimp, scallops, mussels, clams, calamari in the white sauce. I had the Alfonso's White Pizza with fresh tomatoes, mozzerlla, arugula, prosciutto, and shaved parm. Both were delicious and both could have been shared. I would recommend reservations and also if you bring your own wine the corking fee is only $10!
After dinner we headed back to the condo and called it a night! We woke up early the next morning and headed back home just in time to catch the Super Bowl at a friend's house.
As you can tell, the beach is not just a place for summer vacation! Let me know if you are planning a trip to the South Walton area and have any questions. Also, if you have any restaurant or things to do recommendations please comment below! I am always up for trying new things.