3 nights in Charleston, SC
Hey all my ladies.. YEAHHH! JK this trip can be adapted for guys too. I just returned from Charleston, where me & 13 of my friends had an absolute blast. Nope, it was not a bachelorette party! We got asked that at least 10xs a day. We were just there to celebrate friendship!
If you are traveling with a large group- this post will help you out with knowing who will take a large table reservation!
Thursday
12:00pm Arrive in Charleston (we flew Delta), check into Airbnb. We stayed here - the host was great and even allowed us to check into the upstairs unit early. The 2 units are part of the same house, but do not connect. It wasn't a problem for us, but we did not know until we arrived.
1:30 pm Lunch at the Rarebit. I ordered the fish & chips here. Delicious, but huge serving. You can definitely split it. Also, almost everyone got a Moscow Mule- they have them on tap! I ordered a tequila drink, but it was just okay. *They do not take reservations
3:00 Drinks at Stars Rooftop Bar. I had the El Matador (Lunazui Blanco Tequila, Elderflower Liqueur, Southern Twist Ginger & Jalapeno, Fresh Grapefruit Juice). The weather was perfect for sipping on the rooftop for the afternoon.
7:00 pm Dinner at The Macintosh. Our waiter was great & made tons of recommendations. The menu changes from night to night. If the fish & bologna sandwich is on the app menu- GET IT! So good!
8:30 pm Walked upstairs to the cocktail club which was a little dead, but only because it was so early. Headed across the street to Republic where there was a fun cover band!
Friday
9:30ish Breakfast at Callies Hot Little Biscuit. You will have to wait in line outside no matter when you go. It was delicious though- I had the pimento cheese biscuit & split the 3 small biscuits with a friend. We had cheese & chive, cinnamon, & blackberry jam. I think the cinnamon may have been my favorite.
10-1 Rent Bikes from Holy Spokes. These are rent-able bikes on racks throughout the city. (You need to download the app, but directions are by the bikes.) We rode to the water front, visited the battery, took a pic with the pineapple fountain, & rainbow row!
1:00 pm Lunch at Virgiana's on King. I ordered the fried oyster salad & split a carafe of mimosas with a friend
2:30 pm drinks on the rooftop of The Vendue Hotel. Gorgeous Hotel lobby & loved the rooftop vibe.
6:00 Dinner at R Kitchen. Y'all this place was really cool. It was a house and we had the screened in back porch to ourselves. It was 5 courses (you do not order, they feed you) for only $35! YES, $35!! Wine had a corkage fee of $15 per bottle or the had a couple to pick from on the menu along with beer. They do accommodate any allergies and also made sure everything was cooked appropriately for our pregnant friends. GO HERE IF YOU CAN!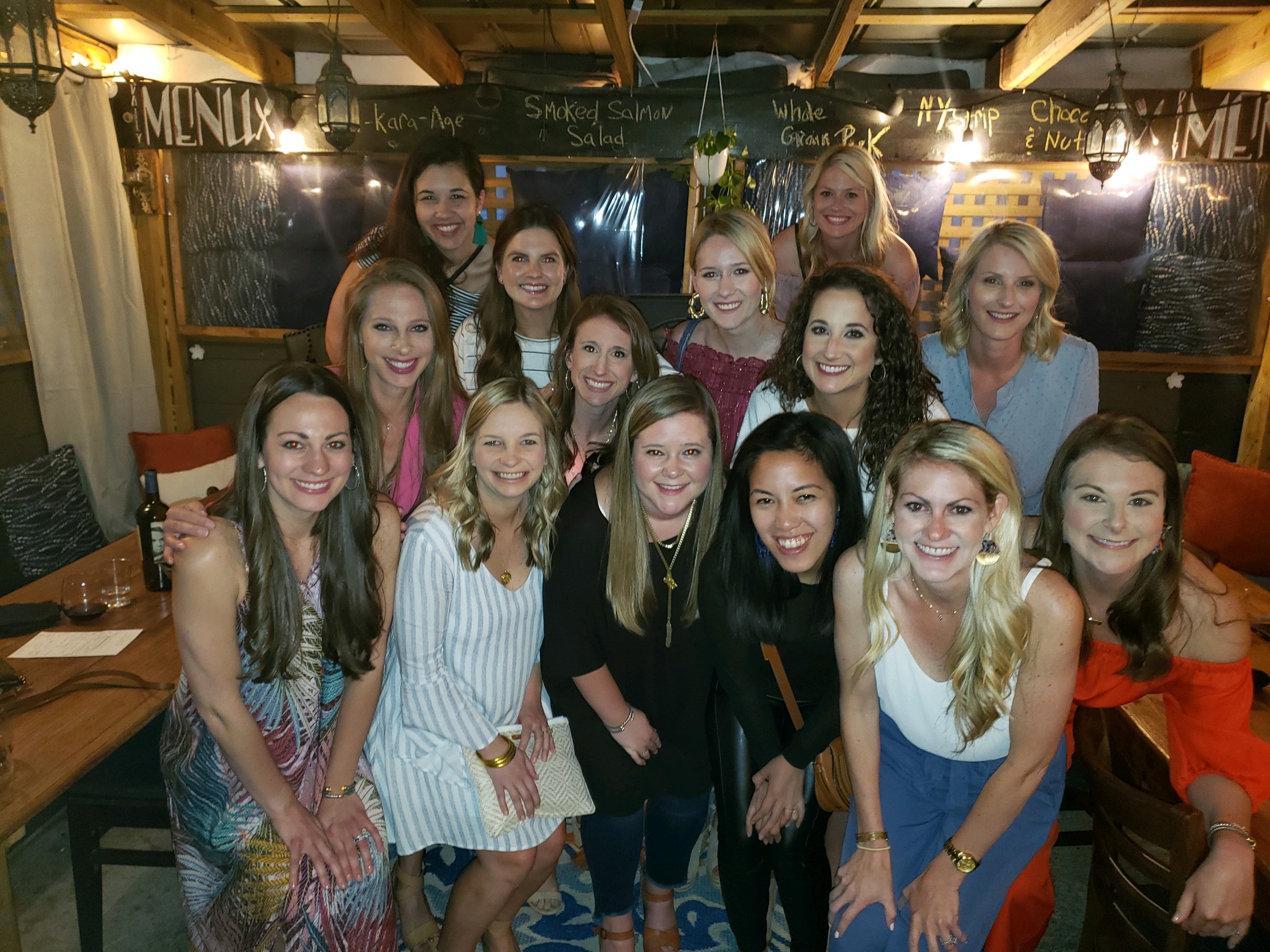 8:00 pm Drink at the rooftop at the Pavilion. There was a pool, idk who can use it during the summer- but may be worth checking in to!
10:00 pm Henry's for a drink on the roof then Club NV for dancing. These are connected and the cover charge lets you in both!
Saturday
9:00 am Coffee & Banana bread from Babas on Cannon
9:45 am - 12:00 noon Walking Tour or Shopping on Kings. I did the walking tour & it was great!! I love learning about the city I am visiting. I highly recommend Ashley on the Cooper walking tour, our tour guide was actually the owner & so knowledgeable. She also left room at the end to talk to her about travel and food recommendations.
12:00 pm Quick walk through the market (picked up an adorable Christmas ornament) & lunch at Henry's. Cool because of the rooftop & pretty weather, food wasn't my favorite.
2:00 pm Charleston Goat Yoga. This was fun. Was it an intense yoga class?- nope, but I don't think it is supposed to be either. The venue is an actual working farm & the owners were friendly and knowledgeable. We had a goat cheese tasting after. Uber was difficult to get this far out, but they did offer to drive us closer to town if we weren't able to get a ride.
6:00 - 8:00 pm Sunset Sail with Schooner Pride This is a public sail that fits around 50 people. They do have 1 picnic table on board so if you get in line early you can try and snag it! They sell beer and wine on board- you cannot BYOB. But you can bring your own cup- & my girl Caitlin made THE CUTEST cups for our trip. Check out her site here- Hark Creative
8:30 Dinner Edmunds Oast . SO GOOD!!! Tons of cool beers to choose from. You know I love to share, so the table split charcuterie and the 4 of us sitting by each other got different dishes and shared.
Sunday
6:00 am Fly back to Lafayette
And that's a wrap! This trip was SO MUCH FUN! Have you ever been to Charleston? If so, what's your favorite thing to do there?! I'd love to go back!
Until next time, follow along over on Instagram @thevintagefork .
Happy Eating (and traveling)- Liz