A Weekend in Dallas.. & Fort Worth
Saturday
7:00 am Leave Lafayette
12:30 pm Arrive in Dallas, Drop off Bags, Catch Uber to Deep Ellum area
1:00 pm Lunch @ Vidorra . We ordered (one too many) Margs, Trompo Street Fries, a Quesidilla, a few different street tacos, & elotes. All delicious, but the elotes (aka corn) were probably my fav. This restaurant has great views of Downtown & also is in the running for Dallas best new restaurant.
2:00 pm Walk around Deep Ellum: We popped into a super cute shop called Jade & Clover. If we were going home I would have made a plant terrarium. Also, grabbed beers at Braindead
8:00 pm Football & Pizza at Pie Tap on Henderson. We ordered the garlic knots, prosciutto pizza, & salami pizza. The prosciutto pizza was my favorite.
Sunday
10:30 am Uber to Pecan Lodge for 11 am open time. YOU WILL HAVE TO WAIT IN LINE, but there is a way to skip the line. You can either order to go OR you can order 5 lbs of meat and skip the line. We did the 5lbs option for the four of us and it was SO MUCH FOOD, but worth it! We ordered the Trough (1 beef rib, 1lb of pork ribs, 1lb brisket, 1/2 lb of pulled pork & 3 sausage links ) with mac & cheese and fried okra.
12:30 pm Scootered to Farmers Market
1:30 pm Quick Nap
3:00 pm Arrive in Fort Worth headed to the Stockyards, walked around, went to the Rodeo & a TX country concert. We saw Kody West, Kyle Park, and then left before Aaron Watson came on. According to my TX country loving brother we were crazy to leave early. Oooops! But y'all, I highly recommend the stockyards- such a cool TX vibe.
9:00 pm Beer & Music - we stopped into places like the White Elephant Saloon
10:30 pm Velvet Taco - delicious late night grub & more ELOTES!
Monday
11:00 am Lunch at Trinity Groves - a food incubator. We picked Chino Chinatown . We ordered the Duck Fat Fries, Duck Egg Rolls, Short Rib Drunken Noodles, and a couple of the daily specials. I love the idea of a food incubator, check this place out! Lots of different food options to pick from
1:00 pm Quick stop to visit our friends and see WeTheBirds adorable Nest! It was great catching up and seeing their adorable house. Check out their home reno here. I love their style & if you're in Dallas you should order some of their beautiful macarons.
2:00 pm Head back to Lafayette, but you know we stopped at Buc-ees on the way out!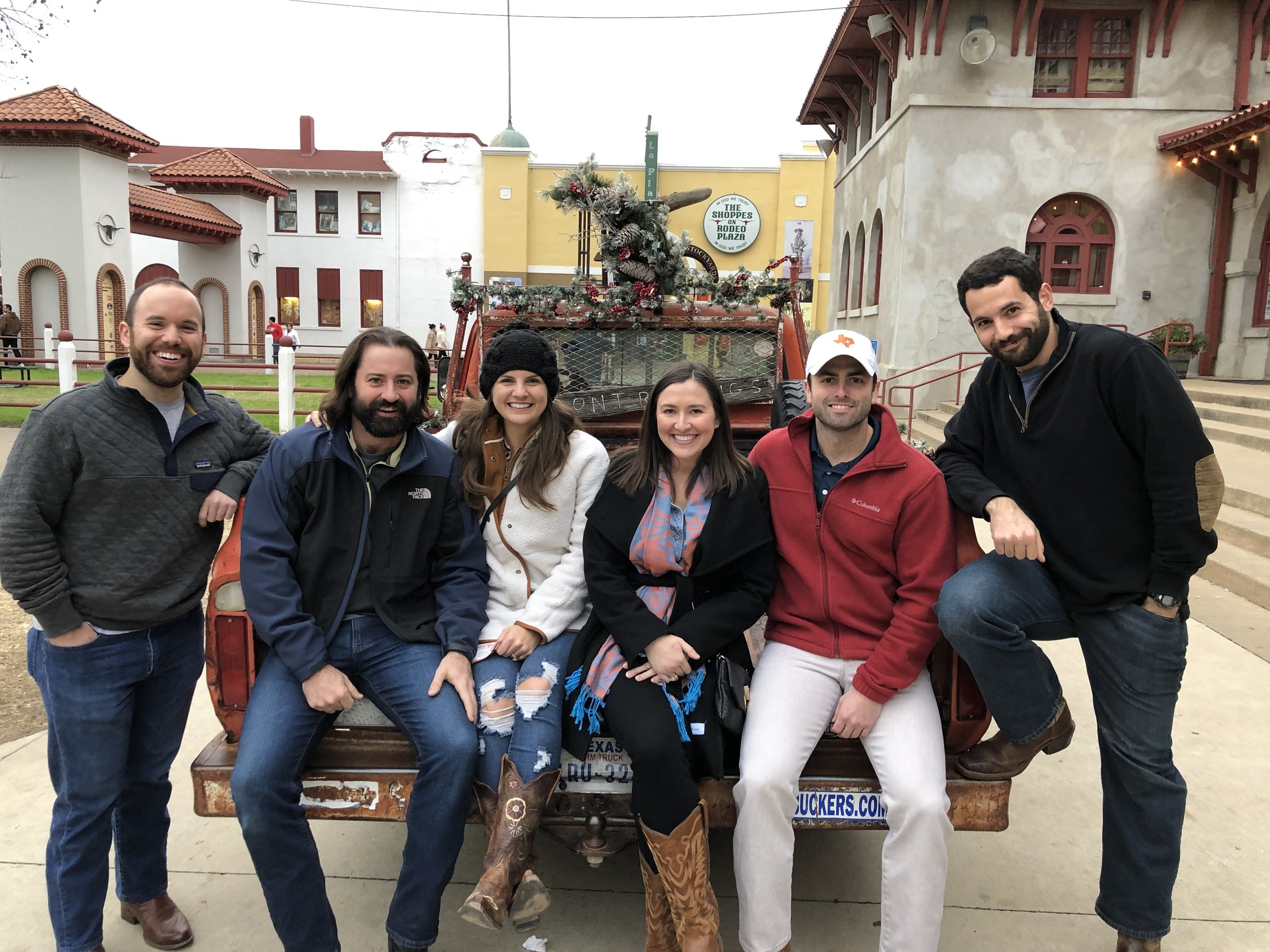 good times DFW! xoxo- Liz & Petey
We really enjoyed enjoyed our quick trip to Dallas (and Fort Worth)! You can get there in just under 6 hours from Lafayette & it is the EASIEST DRIVE! I-49 may not be the most scenic, but Iove the 75 mph speed-limit and scarce traffic. What are your favorite spots in Dallas? Let me know in the comments below.
If you are looking for another TX destination- check out my 3 nights in Austin post here.
Happy Eating (and traveling),
Liz