Austin, TX: bachelorette edition
Did you know Austin, TX is voted one of the top bachelorette party destinations according to multiple sites including travel channel & business insider? I recently helped plan my friend's bachelorette party to Austin, TX & am sharing all the deets below!
Our party details: 9 girls, 2 commuter cars, multiple flying travelers
Where we stayed:
We rented a condo in the downtown area via Airbnb (exact condo linked here). We planned most of our activities around our condo. It was a quick walk to 6th street at night & to most of the restaurants we visited. It was a short uber ride to Rainey Street and a little under an hour to Lake Travis. You were able to park one car on site and there was a Marriott across the street with an overnight parking garage for any other vehicles. Random Fact: The coffee pot is a Keurig if you plan to bring your own. There is also a Starbucks across the street.
Where we ate:
Ranch 616- dinner
This was my favorite dinner spot- possibly because of the hip vibe. Sit outside! They have the coolest neon artwork on the patio. Our waiter gave us a history lesson on the difference between original neon artwork and what places use today for neon. If I remember correctly, the big sign is original.
Drinks: I ordered the Margarita on the rocks which was perfect for the summer heat. If you like Topo Chico, I recommend the Creek Water.
Grub: I was HUNGRY and ordered the Chicken Fried "Petite Beef Shoulder" Tenderloin. It was A TON OF FOOD, but I don't regret my order. Thinking about my dish is making my mouth water. Someone also ordered the Jalapeño Maize Trout and raved about it. Although I did not share, portions are large and you could definitely share. They are known for their jalapeño shots & they brought out a pretty funny dessert for our bride. Side note: No split checks and this was a short uber ride from the condo.
Blenders & Bowls - coffee/breakfast-
This was across the street from our Airbnb. It was connected to Wonderlust Yoga (see below) and was perfect for grabbing something light and quick since we had a big lunch planned this day. I ordered the Dirty Hippie iced coffee with almond milk, chai, and cacao.
Cannon & Belle - lunch
This restaurant was located in the Hilton and a short 3 minute walk from the condo. I can't really speak on atmosphere because our table was not ready and they ended up seating us in the lobby area. I can say the food was delicious and when I asked the bride her fav dinning place for the trip- this was her vote! She had the vegetable panini. The table shared apps-- the white BBQ sauce & chips was a table favorite. I had the white pizza and would order it again.
Second Bar- dinner
Located on Congress Street, this restaurant was less than a 10 minute walk from the condo. We were seated outside and there were other bachelorette parties dinning throughout the restaurant. We passed around the brussel sprouts & buffalo fried pickles. I ended up ordering the veal meatballs arrabbiata off of the appetizer menu for my meal with a side of grits. My food was good, but not my favorite for the trip. A few girls ordered pizza and said it was delicious. Side Note: when asked if we could split checks the waitress said it would take over 30 minutes. We ended up not splitting them, so maybe ask ahead of time and it won't be so much confusion at the end.
Parkside - dinner
More on the finer dining side and probably the priciest of our meals. This was just another short 2-3 min walk from the condo. Super cute and chic interior with a smaller menu. One of the girls split dinner with me- we did 1/2 dozen raw oysters and the NY strip paired with a side of Gruyère & Cheddar Mac & Cheese which was DELICIOUS! Side note: If you are a bourbon drinker, try the Level Up!
What we did:
Boat Day on Lake Travis-
BEST. DAY. EVER. This is a must if you go during the summer months. We rented a pontoon through Austin Boat Tours. There are different options to pick from. We had a private driver and had 5 hours on the water. We ended up packing our own food, but there was an option for the driver to grill on the boat. Some boats have slides off the top. Ours did not, but no worries people are friendly and let you use theirs haha! This company does provide a package for transportation from downtown ATX, but we ended up using AJE Austin Shuttle Service which was slightly cheaper. We made stop a at the grocery store on the way out for last minute snacks & beer.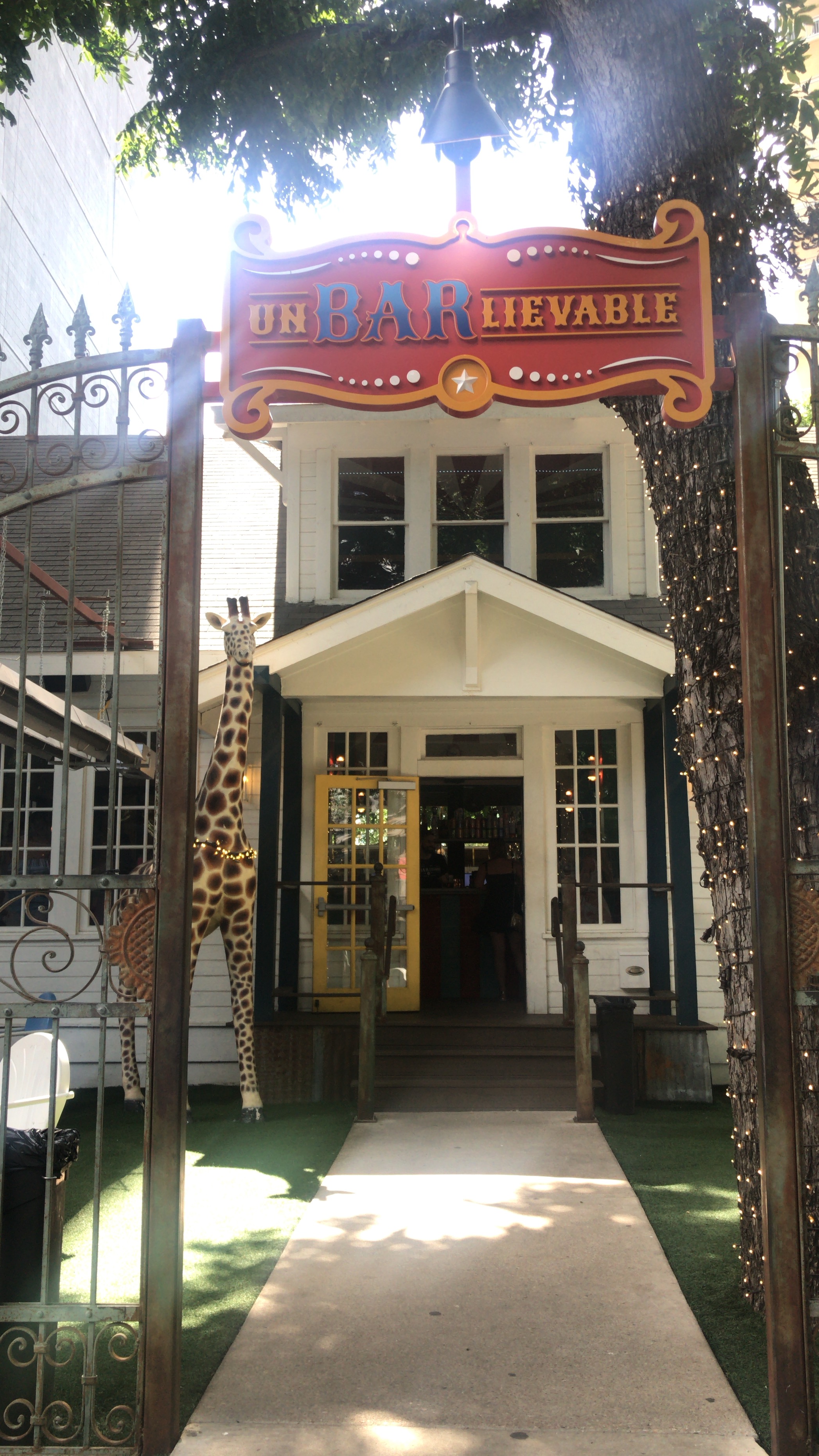 Historic Rainey Street
This is the cutest area. It is made up of old houses turned into bars & restaurants. Lots of outdoor drinking and games. So many cute photo-ops. We spent an afternoon drinking at different spots. This could definitely have been an all day event, but we had to get back to the room for dinner reservations. We visited the Container Bar, Parlor Room, Unbarlievable, & Icenhauers. Side not: Want a good boomerang? Stop at Unbarlievable and head down their circus themed slide.
Private Yoga Class-
Across the street from the condo we reserved a private hot class at Wanderlust Yoga Austin. New to yoga? That's not a problem. A few girls on the trip were not yogis and still had a blast! The staff here were super nice to work with and the class was less that $20 a person including mat rental!
Party on 6th Street-
Walking distance from the condo this was perfect for late night dancing! We had a blast hopping from bar to bar and the bride even took her turn on a mechanical bull one night.
Fun Lagniappe
Oh Shit Kit-- The MOH created the perfect survival kit for the weekend including custom coozies, advil, emergenC, mouthwash, deodorant, ponytails, and more!
Life Size Groom-- kind of creepy, but SO FUNNY! He even survived Lake Travis. Contact Lacey at Just For U signs in Youngsville, La. Tell her Liz sent you! They can do anything!
Custom Cookies-- I made the bride cookies with her favorite things- Backstreet Boys & her pups! They were a hit and great for late night snacking.
Turkish Towels-- The bride had these adorable and light towels monogrammed for us to have on our boat day! They were a lifesaver!
So that's it! If you have anything to add or any questions for me please comment below or send an email to thevintagefork@gmail.com .